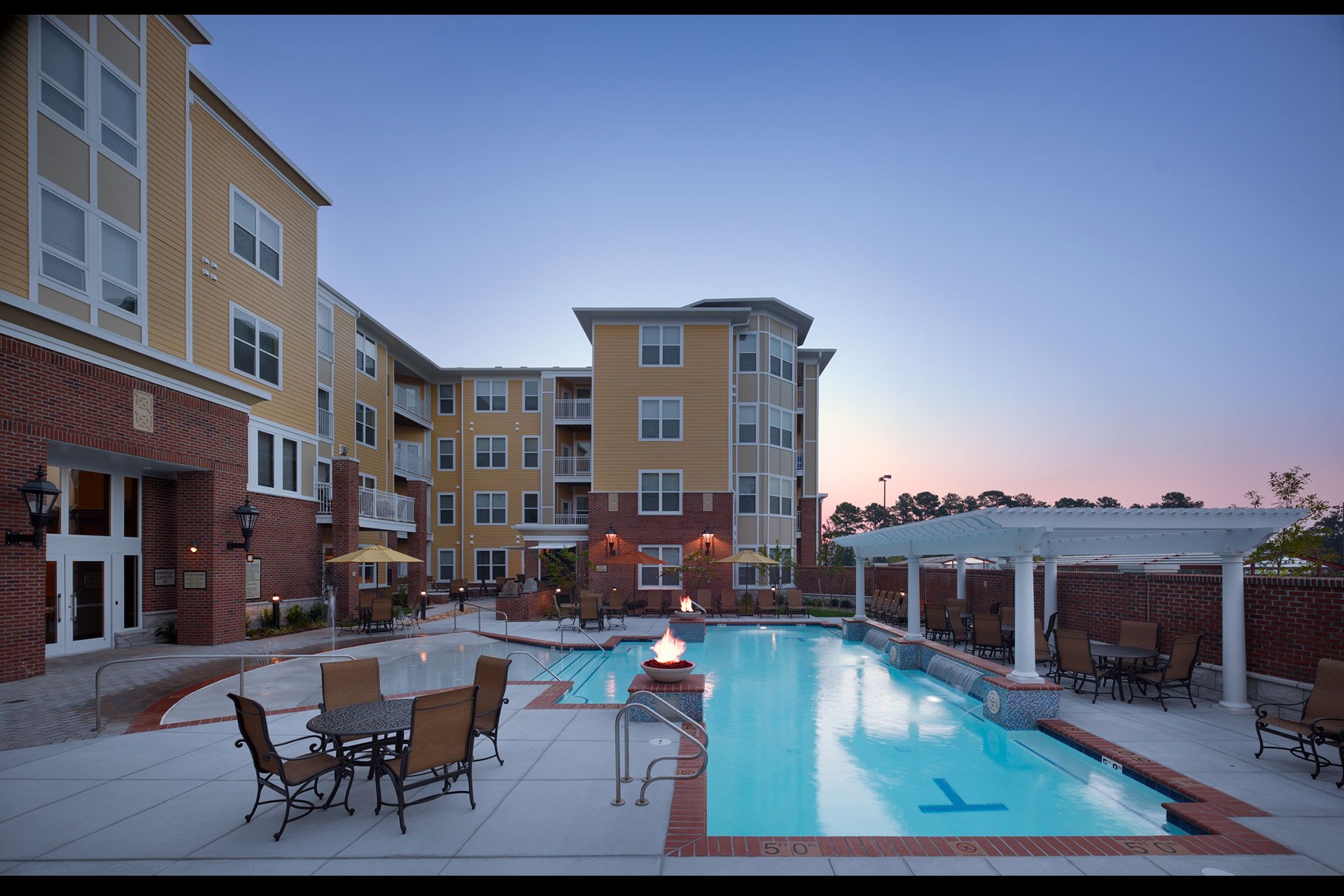 Your Review
Submit a Review

Resident Reviews
We're not going anywhere
|

Recommended: Yes
Very well kept and in a nice location|Recommended: YesIt's very convenient elevators are great to have along with a gym on the premises.
Really a pleasure to live here
|Recommended: Yes
One of the Best in Hampton Roads
It's a please to have you a part of our community Tom!
Aura has a great location and a great lay-out but it's not flawless|Recommended: YesI do tell people who ask about Aura that it's a good place to move into. The things that concern me us is that whenever there is a mess on stairs like someone else's pet's urine it takes over a week to clean it up. Also, all staircases smell unappealing most of the time. The elevator is extremely slow. I cannot help but wonder who pays for the water that is running in the outdoors pool Wouldn't it make sense to shut it down Or maybe add construction and create an inside pool Having gym and pool on site, why not add a little sauna
Good|Recommended: YesPretty sweet. Great staff and looks great.
Safe, clean. highly maintained and well informed of what is going on around the complex
|Recommended: Yes
great place to live.
Glad your enjoying your home here at Aura!
Great place to call home|Recommended: YesThe location is in a really convenient location for anything you need. You can't ask for a more personable staff when you need something done. Maintenance is prompt and really nice to deal with, and the office staff are friendly and fun to talk to even when you don't need anything
The property is excellent.
|Recommended: Yes
Living at the Aura is wonderful. I have just been here a little over a month and I must say that it is by far, the best apartment I have ever lived in. The staff are professional and the maintenance team has been on point and speedy in responding to requests. I have stopped by the office several times with questions and each time, I have been received in a friendly way with lots of smiles. The apartment itself is fabulous. I have not heard any noises and the other residents here have been polite.
We enjoy to see your smile everyday Arsenia! Glad you are enjoying your new home!
It is a place where I live now, today, now|Recommended: YesYeah, it's cool
Im Happy Here
|Recommended: Yes
The grounds are beautiful The staff works hard to learn your name and create fun events. They are very friendly and professional. There is popcorn coffee downstairs daily. There is continental breakfast on Thursdays. The common grounds are kept very clean. My furniture does not fit in my bedroom because the units are small but they are still worth the money. There is no sprayer in the sink which makes washing dishes and washing the sink very difficult however the sinks are extra deep and the kitchen is beautiful. It is very pet friendly, which I don't like, but if you are a pet owner you would be happy. The trash room is far from my unit but I am pleased to not have to leave the building to walk to the dumpster. In my opinion, it is a very quiet community. My biggest issue is that there is no Outgoing Mail slot near your mailbox. If you want to drop off Outgoing mail, you must do so in the office during office hours. I am never home during office hours. I hope they fix this problem. Regardless, if the mail slot is my biggest problem, they are doing a wonderful job I feel safe here. People are friendly here. I enjoy the game room and monthly events here. They make paying rent and filling out maintenance request easy via the Tenant Portal. The location is right in the middle of everything Greenbrier Mall is across the street. It is behind Target and close to BWW, DSW, the ABC store and much more. I am happy with and love Aura Towne
Thank you so much for your feedback! We would love to switch out your faucet in the kitchen for you. Please call us and let us know when is a good time for you and we will make it happen. We love having you as a resident and if there is anything else we can do to make your stay better please do not hesitate to ask. Looking forward to hearing from you soon!
This is like being on vaction every day|Recommended: YesI have already suggested to others who want to live well to visit the Aura. The facility and the surrounding businesses allows each resident to indulge every basic need, hobby or passion.
My experience after a year.|Recommended: YesEnjoyable place to live. Friendly staff and clean environment.
Amazing location, friendly staff, great amenities|Recommended: YesI love my apartment at Aura I never hear my neighbors - never. I sometimes wonder if I even have any because I do not hear or see them. The apartment itself is gorgeous from the stainless steal appliances to the granite counter tops and the custom paint I love being able to walk to Moe's, Taste Unlimited and Stacked. They are literally right across the parking lot from me. Target is also just right around the corner- which is good thing and bad thing since I'm obsessed with Target The staff is incredibly down to earth and friendly. I hardly see them though because I can pay my rent online. The very few work orders I've had to put were addressed immediately and with the upmost professionalism. I use the gym consistently and I love the yoga room. I highly recommend Aura to anyone looking for a modern home with all the bells and whistles
The property is well taken care of. The pool is my favorite spot.|Recommended: YesAura is a great place to live. I have referred a few of my friends to live here.
Great Place to Grow|Recommended: YesWe love living here with all the space and up to date apartments. We like having all the restaurants and shopping right at our finger tips And the freeway to get any where else is less than a minute away. VERY CONVENIENT The staff is very friendly and helpful and truly cares about us
The views and opinions expressed herein are solely those of the original authors and other contributors. These views do not reflect the views of "Aura at Towne Place", its owners, managers, agents, employees or content providers. No representation or warranty, express or implied, is made or given by "Aura at Towne Place", its owners, managers, agents, employees or content providers regarding safety, accuracy, completeness or suitability of the information or material expressed herein for any particular purpose